Learn more about my Garmin training plan 5k in under 35 minutes.
Current situation
Due to the corona pandemic (plus maybe a lack of motivation) I did not train very often recently. The bad weather undermined the rest of my motivation completely.
So, that would be a good moment to start a new 10k training plan, but as I already completed it, I thought it is a good time for something new. So a 5k plan this time and (as I am not a fast runner) a time goal of <35 minutes.
What do I need for the Garmin Coach?
To use the Coach, you only need one of the compatible Garmin watches:
Descent MK1
Fenix ​​5 series
Fenix ​​5 Plus series
Fenix ​​6 series
Fenix ​​Chronos
Forerunner 45 / 45S
Forerunner 245 series
Forerunner 645 series
Forerunner 935
Forerunner 945
Instinct series
Legacy Hero Series (Captain Marvel, First Avenger)
Legacy Saga series (Darth Vader, Rey)
MARQ series
Quatix 6
Tactix Delta
Venu
vivoactive 3 series
vivoactive 4 / 4S
Optionally I can recommend:
Chest strap (e.g. Garmin HRM Run) *: This allows you to better record your heart rate and (depending on the watch) you get further running metrics to evaluate and improve your running style.
Bluetooth headphones: In addition to the music (if your watch can do that), you can have pace information spoken about it.
Personally, I was out and about with my Fenix ​​5 Plus, my HRM-Tri chest strap and my Bose SoundSport Free headphones.
The setup
It is easy to set a new plan up. You can create it via the app or the Connect website.
I choose the Garmin Coach 5k plan with a time goal of 35 minutes.


I accept the terms and conditions (everything at your own risk, Garmin is not to blame. The usual…).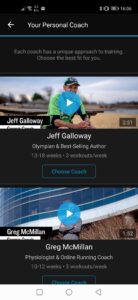 Now the hardest question: Which coach should it be?
I like Creg's plans, but for a 5k plan you need 4 trainings per week and that is not feasible for me. So I tool Jeff instead.

I specify Monday, Wednesday, Friday, Saturday, Sunday as training days. Long runs are possible on Sunday.
Now I can adjust the end date a bit (remains at July 18th) and give the plan a name.
The types of training
You won't get this information at the beginning, but for the article I'll go through the types of training here. Before each exercise, there is a warm-up phase, during which you can walk or run, and at the end there is a cool-down phase, during which you can also walk or run.
For Garmin Connect, every workout is "running", so all settings in this activity profile apply to your runs. In addition, you get a training view as first page, which gives you information for the current type of training.
Drill Workout
These are short sprints with a recovery phase afterwards. Run the first 30 seconds with normal pace and the following sprints with a higher cadence.
Acceleration-Glider
This exercise should teach you to transition from walking to running and back to walking. You start with walking, increases your speed into running and than decelerates back to walking.
Magic Mile
The magic mile (1,906 Km) is a method to predict your performance for you final race. The goal is that you will run the mile faster than the last magic mile.
Speed Repeats
Speed repeats increase your speed for your target distance. You will run sections of 400 meters length and then have a recovery break. Run the 400 meters with a higher pace than your target pace.
Hill Repeats
Hill repeats are preparing you for climbs and descents. This is a rather unnecessary exercise if you are living in a flat area, but there are a lot of areas where this helps a lot.
You will run a short time uphill, have a short break and than again uphill. This repeats a few times.
The plan
Week 1
Week 1 contains the benchmark run only. This means 5 minutes running with 2 minutes warmup and cooldown each.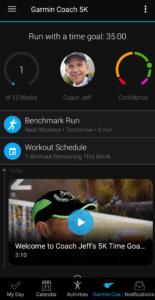 Week 2
The second week introduces drill workouts. This a one of the fundamental exercises in this plan. It is not a long session but it's a small challenge.
The last exercise on sunday is Jeff's famous Run Walk Run. It is a (longer) distance where you can decide to run or walk at any time. This week it is a mile long.
Week 3
The third week adds the acceleration glider to the the speed repeats exercises. Here you "glide" from walking to running and back to walking in a 30 seconds time frame. This is added before the cooldown.
On sunday again 1 mile Run Walk Run.
Week 4
Week 4 is basically week 3 but with 2 miles (3,22 Km) Run Walk Run on sunday.
Week 5
This week brings speed repeats as new exercise. This is a drill workout with additional 400 meters intervals afterwards. The pace for these 400 meters are slightly above your target pace.
Sunday is getting longer with a Run Walk Run distance of 6,44Km.
Week 6
2 new exercises this week: Hill repeats for uphill training and the magic mile. The later is a kind of benchmark run. You run a mile as fast as possible and your time should improve with every consecutive magic mile.
Week 7
The plan doen't change very much after this point. There are no new exercise, but the repetitions and distances are getting higher.
Run Walk Run on sunday is now 8,05 Km long.
Week 8/Week 9
I had to skip a few trainings due to my Covid 19 vaccination and a larger garden project.
First exercise for me was the Run Walk Run again with 8,05 Km.
Week 10
The plan isn't changing much, but that does mean that it is boring. You know your exercises and can focus on improve your performance and technique.
The only downside is the sunday. Run Walk Run with 9,66 Km is very long for a 5k plan.
Week 11
Nothing new here.
Week 12
The last complete training week. And Jeff has still a few challenges. Run Walk Run with 11,26 Km (Plus warmup and cooldown!). I personally does not like this distance in a 5k plan.
Week 13
This week contains only short exercises to keep your fit for your final test.
On sunday it is time for the 5k. The confidence meter is green and I am ready to go.
The result: 34:51 minutes. Not my best result but it is within the target and I am happy.
So, the plan works. I could have achieved a better time, but I had to skip too many sessions.
The plan in detail
Day
Title
Exercises
Week 1
Video: Welcome to Coach Jeff's 5k Time Goal Plan
Su, 25.04
Benchmark run
Warmup 2 min

Run easy pace 5 min

Cooldown 2 min

Text: Planning Your Run Walk Run© Strategy
Text: Why 5k is a great race distance
Video: Acceleration-Glider drills
Video: Cadence drills
Week 2
We, 28.04
Drill Workout
warmup 10 min

4x (30sec run 150-200 spm \ 30 sec recovery)
Cooldown 10 min

Text: Workout overviews
Fr, 30.04
Drill Workout
warmup 10 min

4x (30sec run 150-200 spm \ 30 sec recovery)
Cooldown 10 min

Su, 02.05
Run Walk Run©
warmup 5 min

Run 1,609 Km
Cooldown 5 min

Text: The benefits of running outside
Week 3
We, 05.05
Drill Workout
warmup 10 min

4x (30 sec run 150-200 spm \ 30 sec recovery)
3x (30 sec acceleration glider)
Cooldown 10 min

Fr, 07.05
Drill Workout
warmup 10 min

4x (30 sec run 150-200 spm \ 30 sec recovery)
3x (30 sec acceleration glider)
Cooldown 10 min

Video: The importance of warm ups & cool downs
Su, 09.05
Run Walk Run©
warmup 5 min

Run 1,609 Km
Cooldown 5 min

Week 4
We, 12.05
Drill Workout
warmup 10 min

4x (30 sec run 150-200 spm \ 30 sec recovery)
4x (30 sec acceleration glider)
Cooldown 10 min

Text: Smart weight loss while training
Fr, 14.05
Drill Workout
warmup 10 min

4x (30 sec run 150-200 spm \ 30 sec recovery)
4x (30 sec acceleration glider)
Cooldown 10 min

Video: Speed workouts
Su, 16.05
Run Walk Run©
warmup 5 min

Run 3,22 Km
Cooldown 5 min

Video: Soreness vs. injury
Week 5
We, 19.05
Drill Workout
warmup 10 min

4x (30 sec run 150-200 spm \ 30 sec recovery)
4x (30 sec acceleration glider)
Cooldown 10 min

Fr, 21.05
Speed repeats
warmup 10 min

4x (30 sec run 150-200 spm \ 30 sec recovery)
4x (30 sec acceleration glider)
4x (400m Pace 6:35-6:47min/Km / 1 min recovery)
Cooldown 10 min

Text: Setting the right 5k goal
Video: Hill training
Su, 23.05
Run Walk Run©
warmup 5 min

Run 6,44 Km
Cooldown 5 min

Video: The Magic Mile
Text: Eat (and drink) your way to a better 5k
Week 6
We, 26.05
Drill Workout
warmup 10 min

4x (30 sec run 150-200 spm \ 30 sec recovery)
4x (30 sec acceleration glider)
Cooldown 10 min

Text: Tracking your training
Fr, 28.05
Hill repeats
warmup 10 min

4x (30 sec run 150-200 spm \ 30 sek recovery)
4x (30 sec acceleration glider)
4x (15 sek Berg hoch /1 min recovery / 15 sek Berg hoch)
Cooldown 10 min

Su, 30.05
Magic mile
warmup 10 min

4x (30 sec run 150-200 spm \ 30 sek recovery)
4x (30 sec acceleration glider)
Run 1 mile (1,609 Km)
Cooldown 10 min

Week 7
We, 02.06
Drill Workout
warmup 10 min

4x (30 sec run 150-200 spm \ 30 sec recovery)
4x (30 sec acceleration glider)
Cooldown 10 min

Video: Running form basics
Fr, 04.06
Speed repeats
warmup 10 min

4x (30 sec run 150-200 spm \ 30 sec recovery)
4x (30 sec acceleration glider)
6x (400m Pace 6:35-6:47min/Km / 1 min recovery)
Cooldown 10 min

Su, 06.06
Run Walk Run©
warmup 5 min

Run 8,05 Km
Cooldown 5 min

Text: Dress for training success
Text: Rest for better results
1,5 weeks pause due to vaccination and time off
Week 9
Su, 20.06
Magic mile
warmup 10 min

4x (30 sec run 150-200 spm \ 30 sek recovery)
4x (30 sec acceleration glider)
Run 1 mile (1,609 Km)
Cooldown 10 min

Text: Training in the elements
Video: What happens when you skip a workout?
Text: Sleep well for a faster 5k
Week 10
We, 23.06
Drill Workout
warmup 10 min

5x (30 sec run 150-200 spm \ 30 sec recovery)
5x (30 sec acceleration glider)
Cooldown 10 min

Fr, 25.06
Speed repeats
warmup 10 min

4x (30 sec run 150-200 spm \ 30 sec recovery)
4x (30 sec acceleration glider)
8x (400m Pace 6:35-6:47min/Km / 1 min recovery)
Cooldown 10 min

Text: 5 common mistakes – and how to fix them
Su, 27.06
Run Walk Run©
warmup 5 min

Run 9,66 Km
Cooldown 5 min

Text: Tips & tricks for sustaining a run
Week 11
We, 30.06
Drill Workout
warmup 10 min

6x (30 sec run 150-200 spm \ 30 sec recovery)
6x (30 sec acceleration glider)
Cooldown 10 min

Fr, 02.07
Hill repeats
warmup 10 min

4x (30 sec run 150-200 spm \ 30 sek recovery)
4x (30 sec acceleration glider)
8x (15 sek Berg hoch /1 min recovery / 15 sek Berg hoch)
Cooldown 10 min

Su, 04.07
Magic mile
warmup 10 min

4x (30 sec run 150-200 spm \ 30 sek recovery)
4x (30 sec acceleration glider)
Run 1 mile (1,609 Km)
Cooldown 10 min

Text: Finding time for running
Week 12
We, 07.07
Drill Workout
warmup 10 min

6x (30 sec run 150-200 spm \ 30 sec recovery)
6x (30 sec acceleration glider)
Cooldown 10 min

Text: Keep going! How to stay motivated
Fr, 09.07
Run Walk Run©
warmup 5 min

Run 11,26 Km
Cooldown 5 min

Text: The health beneftis of running
Su,11.07
Run Walk Run©
warmup 15 min

8x (20sec 161-171 spm / 45 sec recovery)

Cooldown 15 min

Text: 5 reasons for running success
Video: Race day motivation
Video: Preparing for your race
Week 13
We, 14.07
Pre-race workout
warmup 10 min

4x (30 sec run 150-200 spm \ 30 sec recovery)
4x (30 sec acceleration glider)
Cooldown 10 min

Fr, 16.07
Pre-race workout
warmup 10 min

4x (30 sec run 150-200 spm \ 30 sec recovery)
4x (30 sec acceleration glider)
Cooldown 10 min

Su, 18.07
5K race
Run 5 Km
Text: Why to keep running after your 5k