Individual training plans from professional coaches? And that for free? That's exactly what Garmin is promising.
Especially for beginners it is hard to train correctly. Of course, putting shoes on and starting is easy. But how do avoid over or under training. How to train without injuries? And how do you reach your goals effectively? That is where Garmins' Coach come into play.
What is Garmin Coach?
Garmin Coach is a programm on your Garmin Connect website or within your Garmin Connect app. It has been offering pre-defined training plans for a long time.
But now Garmin recruited 3 well-known running coaches, who put their knowledge and training methods into an adaptive training plan program.
This means: You define your target (5k, 10k or half marathon and either finish it or reach a time goal= and the coach will create a plan for you. Depending on how you are completing the indiviual trainings, the plan you will. So if you are over performing, the plan will progress faster. If you stay below the expectations, the plan will progress slower.
Garmin Coach is suitable for everybody?
The focus is clearly on beginners and hobby athletes, but depending on your fitness level, there are advanced plans for you too.
As a beginner you most likely want to start a 5k plan with just finishing the race. If you are more advanced, you can set a time goal for 5k or even step up to 10k. And if you are bored afterwards, go for the half marathon.
Completion as target really means that you can run the distance. A time goal set the pace you want to achieve: Possible targets are 4:20min/km (7min/mile) or slower
What do I need for ?
To use the Garmin Coach you just need one of the compatible Garmin watches:
Descent MK1
Fenix 5 Series
Fenix 5 Plus Series
Fenix 6-Series
Fenix Chronos
Forerunner 45 / 45S
Forerunner 245 Series
Forerunner 645 Series
Forerunner 935 *
Forerunner 945
Instinct Series
Legacy Hero Series (Captain Marvel, First Avenger)
Legacy Saga Series (Darth Vader, Rey)
MARQ-Serie
Quatix 6
Tactix Delta
Venu
vivoactive 3-Series
vivoactive 4/4S
Optionally I recommend:
Chest hearth rate monitor (e.g. Garmin HRM run or tri): This allows you to monitor your hearth rate while running and lets you improve on your running style.
Bluetooth headphones: Allows you to listen to music (if supported by your watch) and give you information on your pace while training.
Which coaches are available?
Coach Jeff Galloway

Jeff Galloway is the creator of the Galloway methodology. Here you don't run the entire time, but switch between running and walking. Thus giving you a short rest in between and allows you to run longer.
Click here for Jeff Galloway's website.
Coach Amy Parkerson-Mitchell

With Amy Parkerson-Mitchell you are going to have more training sessions per weeks than with the other coaches. Also Amy's training targets are distance based and not time based. Her focus is on avoiding injuries.
Click here for Amy Parkerson-Mitchell's website.
Coach Creg McMillan

Creg McMillan's plan offers different excercises to improve your pace and running form. Also many of his trainings have an optional part, which allows you to extend the training or skip it.
Click here for Greg McMillan's website.
Which coach should I choose?
This is of course up to you. Every coach will bring you to your goal, but also personal sympathy is important.
My general advice is:
As a total beginner, go with Jeff
If you are prone to injuries or had problems with it in the past, take Amy
Do you want advanced planes or improve on your current state, choose Creg
How does the Garmin Coach work?
Create a training plan
First you need to create a training plan. You can do this through the Garmin Connect website or app.
In the menu you select training and then training plans. There you will find the three plans for 5Km, 10Km and the half marathon under the heading Garmin Coach Plans.
Now Garmin would like to know how far you run on average per week and at which pace. Be honest here and give realistic values ​​(if you are not running yet, give it 0 KM).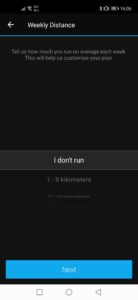 Then it gets exciting: How do you want to complete your target? (Depending on your level of experience and distance, not all options are available to you)
Running / Walking: Running your distance with walking breaks
Completion: jogging the entire distance
Running with a time goal: Complete the distance in a certain time
Next you choose your coach. The training plan looks different with the coaches, contains different exercises, has more or less training sessions per week and takes longer or shorter overall.
Check out the videos for each coach and choose the one that's right for you.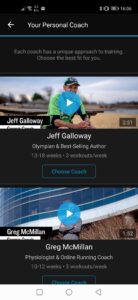 An advice: the videos are always in English. However, you can move the mouse over the video or tap on it on your mobile phone and use the "CC" button to display the subtitles in the Connect language.
Now Garmin wants to know on which days you can train. Do you go e.g. buy groceries on Thursdays or work late on Tuesdays, then skip those days.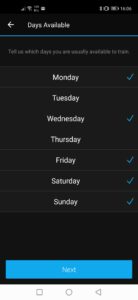 In the next step you choose one of your training days for long runs. Depending on the plan, these are actually a lot longer runs than on the other days.

The last step is your competition day. I find that named misleading. Garmin assumes that you actually want to reach the goal in a competition. Basically, it's about the last day of your plan. You can only specify the day in a limited time window, as the plan always starts immediately and then the duration can only vary minimally. Here you can also stretch your plan a little. So if you don't want 11 weeks for 10 km, pick a later date.
Then give the plan a title, check the summary and that's it.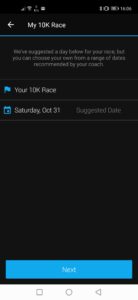 View training plan
You can also view your training plan via the same menu as when setting up. You get the information in which training week you are and who your coach is. You will also get an confidene level for some training plans. This shows you with what probability you will reach your target. The higher your level, the more confident your virtual coach is.
Your next training session is listed and when it is scheduled. You will also receive information on how many training sessions are still pending this week. With one click you can view the entire training plan. Please note that only the next 3 units are detailed. For later trainings, you can see the date only. You will get more information about the other trainings when you complete the next sessions.
All previous events in your training plan will also appear in the list. Each completed training unit is noted here (including an assessment by your coach). In addition videos or texts appear here from time to time that give you further information about running, training in general or other information about sports.
Start trainings
On the day of training you only need to have your watch synchronized (a few days in advance is sufficient). If you then go to the training menu (where you select your activity type), the message that a training is pending appears. You can choose to start directly from there.
Here you can also see an overview of all phases. With this you know what you are up to.
After training
When you've finished your workout and synced your watch, your plan will automatically update. You will receive an evaluation of your completed exercise and the next unit in the plan will be unlocked. Your confidence level will also be updated if it is active for your plan.
Postpone workouts
Even if you've specified the workout days, not all of those days are right for you. Be it because it's been a long dayin the office, you have to go to a party or it's just not a day for sports.
Therefore, you can postpone trainings to another day. To do this, click on the training in your training calendar and click on "Reschedule" (first click on … on a mobile phone). A calendar will now appear with the possible new dates. Choose one and confirm.
Pause plan
You may also need to pause your plan. Maybe you've gotten sick or you're on vacation.
To do this, open the menu (mobile phone) on your details page for the plan or edit the plan (website) and select "Pause plan". The plan is paused until you choose the "Resume plan" option the same way.
Unfortunately, Garmin Coach is stuck to its deadline. This means that if you have taken a week off, the end date is not postponed, but rather shortened by a week. Here I would like to see a function "Postpone plan" for users who do not have a competition with a fixed date.
Conclusion
With the Coach, Garmin has provided us with a really great tool for training. And that's without additional costs (if you have the right watch).
I am definitely looking forward to my training plan and will report back.
Sample plans
If you want to know how such a plan looks like in detail, here are a few examples:
My 10k plan with Coach Creg
My 5k plan with a time goal with coach Jeff
Carina's 5k plan with coach Jeff (Bei-Carina-Laeufts.de / German website)